ARC's Office Hours and Days of Operation:
Where: 640 Hwy 138 SW, Riverdale, GA 30274


When: Monday to Friday from 10am to 6pm
Saturday (by appointment only)
Sunday 1pm to 6pm
---
Currently, ARC provides services for the following programs:

Free Programs:
English Literacy and Citizenship Preparation Courses -- Free English and citizenship courses are available to those with Limited English Proficiency or those preparing for the citizenship examination. English courses are offered through various locations in Clayton county.
FREE LEGAL ADVICE sponsored by Asian Americans Advancing Justice Atlanta.
Immigration attorney/BIA accredited representative offers free legal analysis and advice to those applicants applying for immigration benefits that have court convictions/records or encounter with law enforcement.
​
Fee Services:
Benefits Screening -- ARC assists Limited English Proficient adults and families in Gwinnett, Dekalb, Fulton, and Cobb, Clayton, and Henry counties apply for Medicaid, Food Stamps, Social Security benefits, and PeachCare for Kids. The service improves accessibility to vital government benefits, helping families reduce expenses and become economically secure. Fees will be charged on a sliding scale with flexible payment plans.
Interpreting Services in the following languages: Cambodian, Laos, Spanish, and Vietnamese. Fees will be charged on a sliding scale with flexible payment plans.
---
Educational Programs
ESL and Citizenship Preparation Program

Mission: The ESL/Citizenship Preparation Program strives to enable community members to improve their English skills by offering an ESL/Citizenship Preparation classes effective learning environments that are designed to assist students in achieving their academic, employment, and personal goals to become participating and contributing members of a multicultural society.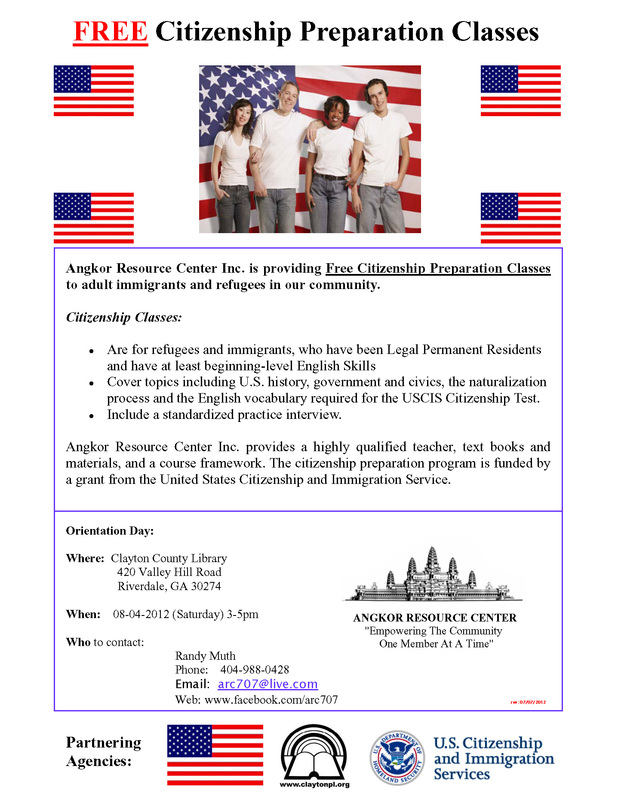 ---
---