CHECKLIST:
---
1) Citizenship/Naturalization
Green Card (copy of both side)
Driver's license or state ID
Social Security Card
Birth certificate (city & country of birth and parents names)
Most recent tax return & W-2s, 1099
List of home address(es) for the past 5 years
List of employer name(s) & address(es) for the past 5 years
All your passports (biographic pages)
Date you have been outside the U.S. since getting Green Card, and the countries you visited during each trip
Marriage certificate & divorce decrees or proof of death for previous spouses. Also, if married to a U.S. citizen or LPR (green card holder), bring spouse's US passport or green card.
Certified final court disposition for any traffic tickets and dismissed charges
For each of your children: his/her green card or complete name, date of birth, and address
If parent(s) is U.S. citizen, what is the date of Naturalization

Interested in becoming a U.S. citizen?
​Citizenshipworks is a free online service that helps you apply for citizenship, step-by-step. We guide you from start to finish. And we tell you if you need help from an expert. ​

Click Below To Download "Civics Questions for the Naturalization Test"
---
2) Family Petition/Sponsorship
Petitioner/Sponsor:

Immigration Status

State's ID/License & Social Security Card

Birth Certificate with translation (if any)

Passport

Proof of relationship

​Marriage Certificate with Translation (if any)

2 qty of passport style pictures 2" by 2"

Where do you live during the last 5 years?

List where you have worked or attended school during the last 5 years

Applicant/Beneficary:

Valid, unexpired passport

Birth certificate with translation (if any)

Marriage Certificate with Translation (if any)

Marriage Termination with Translation (if any)

2 qty of passport style pictures 2" by 2"

Where do you live during the last 5 years?

List where you have worked or attended school during the last 5 years

Timeline of Relationship
---
3) Green Card Renewal/Replacement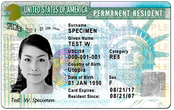 Green Card (copy of both side)

Driver's license or state ID

Social Security Card

Birth certificate (city & country of birth and parents names)

Location where you applied for an immigration visa or adjustment of status

Location where your immigrant visa was issued or USCIS office where you were granted adjustment of status

Destination in the United States at time of admission

Port-of-Entry where admitted to the United States